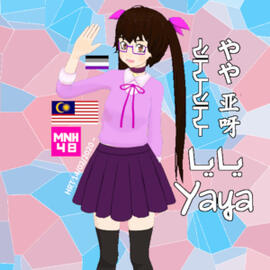 MNH48 / YAYA

(muhdnurhidayaћ)
[Nurul Azeera Hidayah @ Muhammad Nur Hidayat]
[Yasuyoshi Yatsuko 安喜弥津子 / Xi Daya 喜达亚]
Open-minded asexual feminine-leaning nonbinary (demigirl).
Malay Muslim from Kedah, a FOSS contributor.
Independent Malay translator since 2012.
Future YouTuber.
---
23 | F-NB | MY
About
My name is Nurul Azeera Hidayah @ Muhammad Nur Hidayat. Both the word Hidayah and Hidayat ends with a silent letter so they're both pronounced the same way: 'Hidaya'.
To ensure no one confused, just call me Yaya instead.
---
Basic Info
23 years old (18 October 1996)

Born in Alor Setar, Kedah, MY

Grew up in Sungai Lalang, Kedah, MY

Living in Wangsa Maju, Kuala Lumpur, MY

Feminine-leaning non-binary (demigirl)

Pronouns they/them and she/her

Asexual

Fat

Kedahan Malay

Open-minded Muslim

Knows Malay, English, Chinese (Mandarin) and Japanese

Has Diploma in Computer Science from UiTM Perlis, 2017

Will have Bachelor of Computer Science (Honours) from UiTM Shah Alam, 2020
Extra Info
Promotes the preserve of nature and traditional heritage while adapting to modern world.

Encourages the use of Jawi alphabet to write Malay so that it doesn't extinct.

Western zodiac: Libra Sun, Capricorn Moon, Capricorn Rising

Chinese zodiac: Rat Year, Dog Month, Rat Day, Horse Hour

Chinese Horoscope: Yang Sign, Lucky Numbers 2 and 3, Lucky Colors Blue, Golden and Green, Fire Element

True Neutral

Translator, gamer, FOSS contributor, future YouTuber

Lives with monthly RM400 internship allowance at RM350 rent room.
Before You Follow
Please take note that most of the tweets I do were related to either translations or games. I rarely do personal tweets per se but I do use the same Twitter to reply toxic Malays with scientific evidence related to transgender issue.

Most of my tweets were either bilingual Malay and English in one tweet, or one tweet in either language and another language in the reply. Sometimes, it can contain third language, either Japanese or Chinese (Mandarin). However, replies to other tweets will be in whatever language that is used in the original tweet and will not be translated.

I do not follow back people who followed me. If I want to follow then I choose who to follow, regardless if they followed me or not.

I don't mind who you are, follow me if you want, don't follow if you don't want.

I also have two different Instagram accounts, the public account @mnh48.official is open for anyone to follow, whereas the private account is only open to local Bandori fans in the MYANDORI Discord server. Even if you found the account, I always ask in that Discord server for verification before approving the follow request.
Interest
Translation
The main thing I do in my free time is translation.
I used to be part of Japanese anime / music / drama fansubbing group but I have stopped them after the fansub group was declared to infringe rights even if we don't.

Now I do English - Malay translations for software, games, websites, etc especially for free and open source software (FOSS) community. I also contributes to the FOSS community whenever I can with my ability of coding and bug-hunting.

I still do Japanese - Malay and Japanese - English translations from time to time, but it's not part of any fansubbing groups anymore, but rather independent hobby work.

I also do Chinese - Malay, Chinese - Japanese, Chinese - English translations if the text is not too complicated. My Chinese is rusty after so many years of not using Chinese at open space and only using it online, as there's no Chinese in UiTM.
Game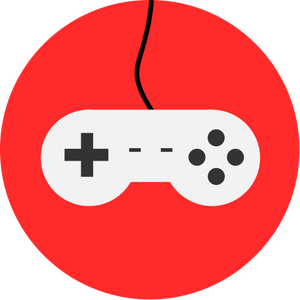 I started playing games in 2009, when I get to form one of secondary school, where I usually go to cybercafe and spend my pocket money around RM2 per hour.

Nowadays though, I don't have much time to play many games so I only focus on Minetest, Minecraft, Counter Strike : Global Offensive, and Osu!.
Music

My music preference is mostly Japanese, with the first ever encounter with Japanese music being Hatsune Miku - Sakura no Ame in 2009 which I found when we're searching for good sad song for our teacher's retirement choir group.

For now, I mostly listen to VOCALOID, Bandori, LoveLive and RevStar songs.
Other Interest

I have interest in drawing, but my drawing is too ugly and it just demotivates me.

Other than that, most of my interests were on the technical stuff, like wanting to create programs and finding ways to improve current programs.

Other technical stuff would be written on my full personal website instead of here.
Help
I'm currently doing my internship and so I'm fully dependant on my internship allowance to live my life. It would be good if you could ease my burden by helping me.

I accept all kind of stuff, virtual and physical, including foods, do contact me if you want to send anything high value or any physical items to ensure it arrived safely.
Current Income and Expenses
Listed here are the basic factions of my monthly incomes and monthly expenses.
Incomes
Internship allowance - RM400

Cashout from Liberapay - depends, average RM30
Expenses
Rent room - RM350 (I'm renting the smallest standalone room with shared toilet nearby LRT station to ease me going to my internship workplace, this is the one that has open-minded people so I can live as myself)

RapidKL pass - RM100 (Without pass, I would need RM137.60 minimum to move between my rentroom and my internship workplace - RM3.44 x 2 times per day x 5 days per week x 4 weeks per month)

Mobile data internet - RM40 (This is the one I uses for all online activities outside internship working hours including weekends because there's no WiFi here)

Food - RM150 (Based on budget of RM5 per day, which is actually lower than the local average of RM7 per meal or RM21 per day but I can't put such high budget)
Donate
You can help me by donating some money.
The sections below are just the recommendations, Malaysians can also donate via method that is recommended for non-Malaysians and vice-versa.
Malaysians
Send via Maybank ATM Cardless Withdrawal - insert the phone number 01114740542 into your cardless withdrawal menu and go with the process, then forward the 2 final SMS from Maybank to the same number so that I can withdraw them. Refer here.

Boost wallet: key-in number 01114740542

Postal order (Wang Pos) - also accepts from Singapore and Brunei due to mutual agreement.

Money order (Kiriman Wang)

Express money (Wang Ekspres)
Non-Malaysians
Send Stuff
You can also help me by sending some physical items. Send them to the address according to which postal or delivery courier you will be using.
Prioritized
Long skirts

Feminine office attire

Short skirts

Sugar

Milo

Food
Non-Priority
Energy meter to measure how much electricity I'm using out of the only wall socket in my rent room - which currently connected to three trailing socket extensions with ten electrical appliances attached (five of them are always-on).

Uninterruptible Power Supply (UPS) for my current setup.

Proper PC setup, currently I'm using my laptop with an external monitor, externally powered 7-port USB 3.0 hub, and 4-port USB 2.0 hub for everything.

VR setup with motion sensors etc to make it easier for detecting motion for my character in future YouTube videos, so I can properly start my idea on The MNH48 Channel, which will focus on Malay language and Jawi alphabet with English and Japanese subtitle, plus Malay covers of Japanese and English songs.

Server rack with multiple hard disks to store archive of my videos and personal documents.
Contact
You can contact me through the following
Other Contacts
Mail: see address to send them

SMS: 011-14740542 (only can receive SMS, I can't reply you)

Minetest forum: muhdnurhidayat
Address
I don't have permanent address, currently I'm just renting a rent room in a house in Desa Setapak, Wangsa Maju. As no one is home most of the time where delivery would be attempted, please use the following addresses if you want to send mail or parcels:
PosLaju, send to this address:
Muhammad Nur Hidayat,
EZIBOX@LRT SRI RAMPAI,
LRT Sri Rampai,
Jalan Wangsa Perdana 1,
Taman Sri Rampai, Wangsa Maju,
53300 Kuala Lumpur.
---
Normal post or EMS or other post services under Universal Postal Union, send to this address:
Muhammad Nur Hidayat,
Self Collect, Pos Malaysia,
Lot F2.17 & F2.18, 2nd Floor,
Aeon Big Shopping Centre,
Wangsa Maju, 53300 Kuala Lumpur.
---
Lorry365, Parcel365, GDEX, DHL, collectco, PostCo, SF Express, After5, TITUS, and aramex, send to this address:
Muhammad Nur Hidayat,
Lorry 365, Lot F20A, 1st Floor,
AEON Alpha Angle Shopping Centre,
Jalan R1, Seksyen 1,
Bandar Baru Wangsa Maju,
53300 Kuala Lumpur.
Lazada, send to this address:
Muhammad Nur Hidayat,
Yunda Express Desa Setapak,
No. 36, Jalan 41/27b, Desa Setapak, 53300 Setapak, Kuala Lumpur.
---
Ninja Van, send to this address:
Muhammad Nur Hidayat,
Ninja Box at Sri Rampai LRT,
LRT Sri Rampai,
Jalan Wangsa Perdana 1,
Taman Sri Rampai, Wangsa Maju,
53300 Kuala Lumpur.
---
Pgeon, send to this address:
Fill in recipient line:
Muhammad Nur Hidayat PGEON

Fill in address line:
[newsplus] RKL-W MAJU (272),
Stesen LRT Wangsa Maju,
Mukim Setapak, Pcollect(qbdnb),
Jalan 1/27a, Kuala Lumpur
53300 Wilayah Persekutuan Kuala Lumpur Malaysia
Please put this notification phone number together with your mail or parcel so that the delivery man or system could notify me: 011-14740542
Note that this phone number is a notification number and it doesn't accept any calls.

Alternatively, we can meet up at either LRT Wangsa Maju (preferred) or LRT Sri Rampai station to give me in person. Just contact me to arrange date and time.
I'll usually available 8pm-11pm weekdays and 12pm-11pm weekends.